VIOLENCE AT SCHOOL
When we talk about violence at school or school violence, we understand it as intentionally harmful action between members of the educational community that takes place within the physical spaces of the school premises or in other spaces directly related to school (around the school or places where activities take place outside the school). Bullying in schools can take many forms, ranging from physical violence, sexual violence to psychological violence, and often results in acts of intimidation and repression. (Council of Europe, 2020). Bullying has been widely documented as one of the most widespread forms of school violence, affecting 1 in 3 young people. A report recently published by UNESCO reveals that more than 30% of pupils worldwide have been victims of bullying. (UNESCO, 2020).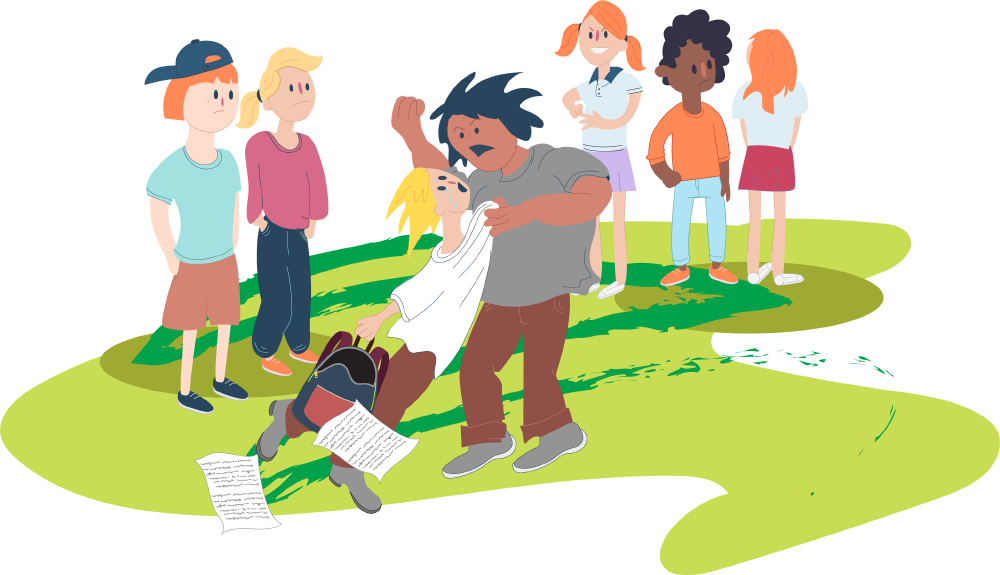 Numerous types of violence can be distinguished, such as those described below:
Physical abuse: actions that, voluntarily carried out, cause or are likely to cause physical harm or injury.
Emotional abuse: actions (usually verbal) or actions that cause or are likely to cause psychological harm.
Neglect: neglect or dereliction of duty in the care of a person.
Sexual abuse: any behavior in which a person is used as a means of sexual stimulation or gratification.
Along with school violence, the formation of youth gangs is linked. A systematic review of eight studies, conducted in five countries and the Caribbean region, examined predictors of youth gang membership across five social spheres: individual, peer, family, school and community. Significant relationships with certain factors were found for each of these spheres. For example, in the individual sphere, delinquency and substance use are related to gang membership, as is lack of parental supervision in the family sphere. These results, however, are based on a small number of studies, so these conclusions are limited.
NEW REALITY, VIRTUAL BULLYING
Data from seven countries in Europe show that the proportion of 11–16-year-olds using the internet who have experienced cyberbullying increased from 7% in 2010 to 12% in 2014. What's more, the UN organization attributes a further increase due to the COVID-19 pandemic, as more students than ever before are living, learning and socializing online. This "unprecedented increase in screen time and the merging of online and offline worlds" has heightened their vulnerability to bullying and cyberbullying.
Anti-bullying organizations and campaigns aim to educate and empower people to prevent and manage cyberbullying, but the general sentiment of today's youth is that social media companies and our government officials should do more.
TESTIMONY OF A VICTIM OF BULLYING
"I can't go out on the street alone".
Maria (false name) is a 14-year-old girl who lived through hell in a small town 1 year ago. It all started a couple of years ago. Vanesa, the girl's mother, says that "at the beginning my daughter received little insults, silly shoves and situations that didn't seem very serious". However, everything changed a year ago. On the school bus Maria was kicked and her mobile phone was broken when she tried to sit in the only seat that was free. That was the beginning of an ordeal that continues to this day. Maria began to feel lonely and to receive emptiness from her classmates and lifelong friends. "I felt frustrated and didn't know what to do or how to react. Since the bus everything got worse. One day in the supermarket I was chased and had to run away. The young woman says she feels alone and threatened and dreams that this nightmare will finally end.
Her mother has filed several complaints, but the facts are still under investigation. María hardly ever goes out in the street and when she does, she can't help but turn around constantly for fear of what might happen to her. These are after-effects that she has not been able to get rid of even with medication, as the experience is still very much present.
 HOW TO PREVENT IT OR INTERVENE
First of all, we must say that this is a job for everyone, both for teachers and for society as a whole, to be aware. Having said that, here are a few tips for actions we can all take together:
Raise awareness in the community about family violence as a social problem.
Provide alternative models of family functioning that are more democratic and less authoritarian.
Propose modifications in the contents of the Formal Education system.
Promote the creation of treatment and recovery programs for victims.
Develop prevention programs aimed at children of different ages, so that they recognize the different forms of abuse and connect with alternative models of conflict resolution.
Promote the creation of a network of community resources to provide support and containment for victims of violence.
Consider the real needs and resources available to achieve this.
Decentralize responsibilities so that those involved in the task can play a real role.